Coaches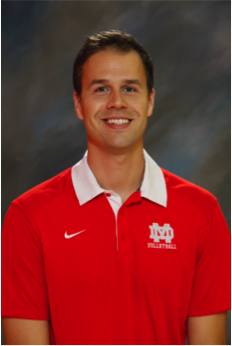 Varsity Head Coach: Dan O'Dell

Head Coach Dan O'Dell begins his seventh year as head coach of the girls' varsity team, having coached the team to the 6 consecutive CIF Southern Section finals with championships in 2015, 2017, and 2018 along with a California State Championship in 2018 capped off by being named Maxpreps National Champions in 2018 as well. Under Dan's coaching, the Monarchs have won several tournaments, including the Queens Court
(2013, 2018), Dave Mohs (2013, 2016, 2018), and the California Challenge (2013, 2014), and the Nike Tournament of Champions (2017). Dan was also named the Division 1 Coach of the Year in 2014, 2017, and 2018.
Dan attended Penn State University, where he was starting setter from 2002-2006. He was an All-American his senior year and was All-Conference for all four seasons. He played and lost in the National Championship game in 2006, where he was named to the Final Four All-Tournament team. He also received an Academic All-Big Ten award for three years at Penn State while majoring in Industrial Engineering.
After spending two years as an IT consultant following graduation, Dan got back into the sport of volleyball by training with the Men's National Team during the winter of 2009. He played professionally in Portugal during the 2009-2010 season helping lead GC Vilacondense to their highest finish in club history.
Upon returning home, Dan began his coaching career at Mizuno Long Beach. He coached a top team at Mizuno Long Beach for 4 years, where his teams have placed among the nation's best. He is now the Club Director at Momentous VBC, having taken their 16's team to an 11th place finish nationally in 2016, and 17's team to a 5th place finish nationally in 2017.
Dan began coaching at UCLA in 2010 as a volunteer assistant. He was promoted to a full-time assistant in the winter of 2011, taking charge of the team's middle blockers and controlling the defense for the team. In 2011, he helped lead UCLA to the National Championship.
Dan lives in Long Beach with his wife, Alli, and their daughters, Olivia and Kyla, and son Connor. He grew up in Rochester, NY in a big family with four brothers. He enjoys spending time with his family, watching sports, and playing games. He is also a big fan of the Buffalo Bills and Syracuse hoops.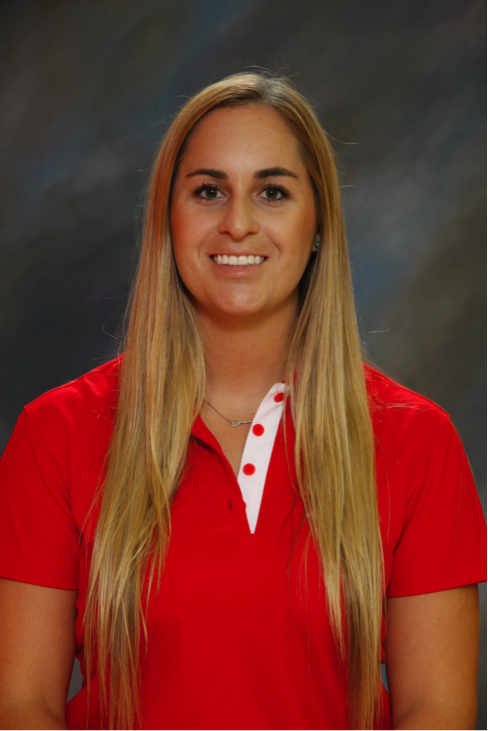 Varsity Assistant Coach: Chelsea Rice
Chelsea begins her 5th year with the Mater Dei Varsity team. Before recently joining Momentous VBC, she coached with Mizuno Long Beach for the last five seasons. She has coached in the 12's, 14's, 16's & 18's division where she has had four 5th place finishes at Junior Olympics. Chelsea grew up with the Mizuno family playing there since she was 13 years old. She attended Woodrow Wilson High School where she spent two years on varsity earning defensive player of the year, spirit of the game award, the Steve Lewis award and academic honors.
Collegiately Chelsea went on to play at the University of La Verne, a small DIII school in the Inland Empire. She was attracted to the volleyball program and school because of the core values, family like environment, convenient location and gorgeous campus. The volleyball program was ranked 5th in the nation her freshman year and the school ranked top 50 on Forbes list. She played libero for the leopards and helped them to a 2nd place finish in an NCAA National Championship game her sophomore year. She went on to graduate with a Bachelor Degree in Speech Communication. Chelsea decided to continue her education at the University of La Verne by earning her Masters Degree in Leadership and Management.
While continuing her education, she spent three seasons coaching at the Claremont Colleges as the first assistant for Pomona-Pitzer.Chelsea likes to spend her extra time with family and friends. She has a passion for sports (Packers, LA Kings, Clippers & Dodgers), country music/line dancing/concerts and running. She is very excited to be apart of the Mater Dei staff and looks forwarded to the upcoming season.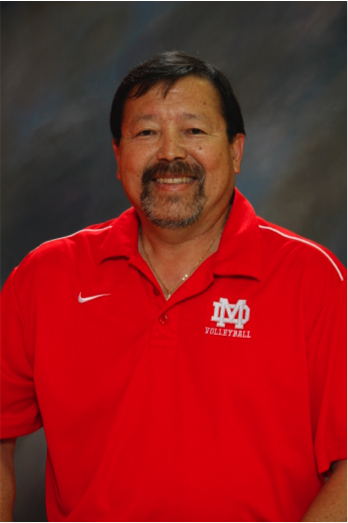 Varsity Assistant: Gary Yee
Coach Gary Yee has been coaching volleyball for nearly 35 years, ranging from elementary school aged kids through adults. He has had the privilege of coaching 3 seasons in the boys' program, but has been exclusively with the girls' program the past nine years. He is also, a CIFSS and SCVA referee and keeps our program current on rules and protocol changes. He is still active on the senior volleyball circuit, setting for his 55+ team (next year, he qualifies for the 60's!). Gary loves to travel with his wife, Arlene. They just recently visited the Baltics on a cruise to Denmark, Finland, Estonia, and Russia. Next year, they are eagerly planning for a trip to Japan for Arlene's college reunion (Waseda University). Gary lives in Cerritos and has three adult children: Garret, Sabrina and Joshua. Besides Mater Dei, he is a fan of the Lakers, Dodgers, and FC Barcelona. Incidentally, he really celebrated the US Women's National team World Cup victory over Japan!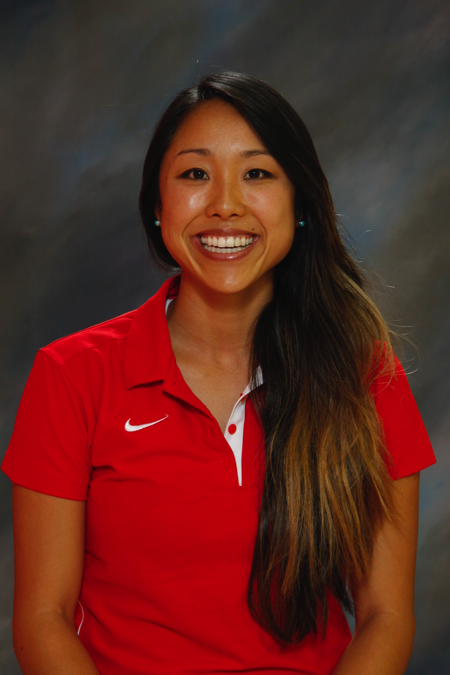 JV Head Coach: Ashley Lee
Ashley is a Southern California native with a passion for learning, teaching, traveling, and volleyball. Playing volleyball for the past 12 years has led her to the great experiences of receiving scholarships at Cal State Long Beach, University of Hawaii and traveling to play professionally for Neuchatel, Switzerland. She was the starting setter in every match while playing for Neuchatel Switzerland. Over her career, she joined Misty May as the only 49er setter ever to have over 2,000 assists, 1,000 digs, and 500 kills. As a setter she recorded a rare quadruple- double v. UCR with 50 assists, 10 digs, 13 kills and 10 blocks. At the University of Hawaii, she was one of the sixteen entries for the National Collegiate Sand Volleyball Championships in Gulf shores, Alabama.
Out of her love for volleyball Ashley has created Ashley Lee Volleyball and is Co-Director of Club Green Volleyball. Both training programs for athletes to learn the skills she has accumulated over her career.
When Ashley is not coaching volleyball, you can usually find her cooking, eating, playing volleyball or playing with her puppies Broc-Lee and Char-Lee.
As a coach her goals are to teach these athletes good work ethic and the skills of volleyball. She is extremely excited to be a part of the Mater Dei staff. Her main goal is to make each athlete the best athlete they can be.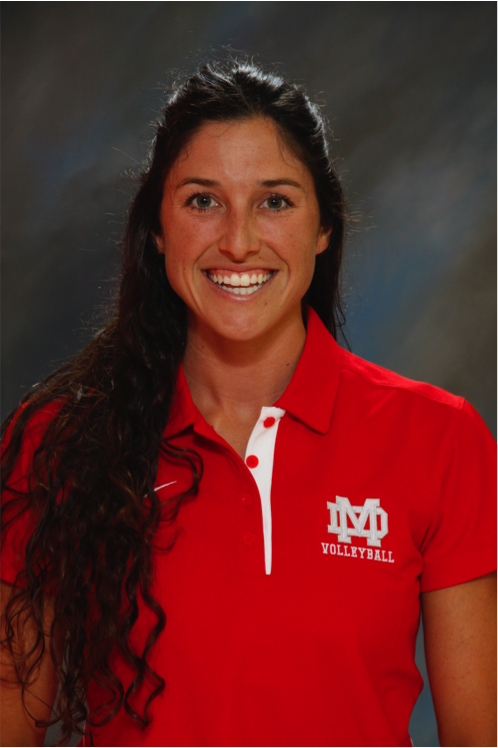 Frosh/Soph Head Coach: Jacqui Wood
Jacqui Wood joins us in her 5th season at Mater Dei with over 10 years of coaching under her belt. She spent the past 5 years coaching for Foothill High School and currently runs her own business, Iron Fit Strength and Conditioning and is competing on the professional beach volleyball tour.
Over the years Jacqui's passion for the game has grown, teaching other important aspects of the game: strength, knowledge, and mind frame. As a coach, Jacqui feels she has a responsibility to teach more than volleyball; instilling respect, building confidence and helping guide these young girls to become exceptional student athletes.
Jacqui attended Foothill High School playing Varsity soccer and volleyball for 4 years, making the All CIF team her senior year for soccer and volleyball. She earned a full scholarship to play volleyball at The University of Missouri, at Kansas City. She became the starting middle block by her 2nd year and holds a record for most blocks in a season with 89 and making the all league team. There she received a BA in Broadcast Journalism and minor in Psychology, child development.
Coach Jacqui has a go get it kind of attitude with tons of energy to go around. She believes in giving your all no matter the conditions or situation. Not only does she strive for her best but also she expects the same from her players. Hard work is necessary and with that's comes opportunity and fun.
If Jacqui isn't in the gym coaching or training she is probably on the beach hanging out or exploring the beauty of the world with her boyfriend. Life is too short to not enjoy it and do what you want.
Freshman Head Coach: Jaylin Motley